Airstream of Chicago Lurie Children's Hospital Waiting Room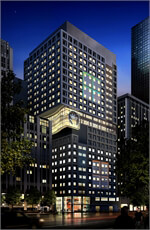 Airstream of Chicago, have been recently contracted to design, spec and build an Airstream-themed lounge for the Operating Room waiting area on the sixth floor of the new Ann & Robert H. Lurie Children's Hospital of Chicago. This hospital project currently is the largest building project in Illinois with a budget of over $1.0 billion dollars. When completed in 2012, it will be staffed and run by Northwestern Medical School. This facility will be one of the top childrens' hospitals in the world and will create a healing environment unlike any other. From the 30 foot whale donated by Shed Aquarium hanging in the main lobby to the childrens' play areas which will be themed with a mock fire truck and fire house, helicopters, tree houses, and a large green space atrium area overlooking Lake Michigan. The Airstream waiting room will be an iconic addition to a state of the art healing facility.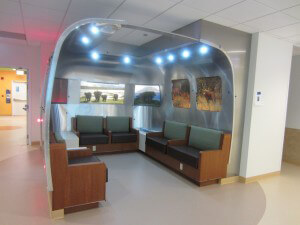 A unique Airstream lounge is being created by Airstream of Chicago and will be located on the sixth floor of the new hospital,. This area will tell the story of Ann Lurie's world travels to Kenya where she has been working for years providing medical assistance to literally tens of thousands of patients through her creation of the AID (Africa Infectious Disease) Village Clinics. As part of this work, Ann Lurie uses Airstream-based mobile medical units to deliver medical care and education to remote villages throughout the country. These custom Airstream medical units have been custom built by Airstream of Chicago to endure the harshest conditions, are solar-powered, and have brought aid and relief to these remote and harsh conditions.
John Dresselhaus, President of Airstream of Chicago, is excited and honored to be able to provide support and resources for this unique hospital project. Ben Kirby, the project engineer and Airstream of Chicago partner, will spend hundreds of hours in design, fabrication, build out and coordination of the project's many details with Airstream, the hospital architectural staff and contractors. Dresselhaus says, "The Airstream of Chicago staff is unlike any other, as one would be hard pressed to find the level of knowledge, skill sets and fabrication experience present in one organization to tackle these difficult and unique custom RV related projects."
About Airstream of Chicago
Airstream of Chicago is Illinois' exclusive Airstream retailer. Our award winning team of professionals assures our customers a pleasant, fun filled and educational experience. Many of our clients are first time RVers wanting the absolute best in industry products and advice as they embark on their great adventure of exploring this magnificent country. From sea to shining sea there is no better way to experience North America than in an Airstream product.
Contact Information
9740 S. Route 59 Naperville, IL 60564 Ph: 833-274-9708 Fax: 815.726.1929 www.airstreamofchicago.com